Muhammad Ali is an important person in the history; because he was one representative of African-American who was at this time fighting for survival and to remove inequalities.
Number of African-Americans during 60s and 70s were in a terrible struggle due to the violence, crime, unemployment's, racism and discrimination. In the 1960s, civil rights movements were increasing. Many African-Americans were deprived of their right.. Many of us had difficulties to get the same civil liberties as white people. When Ali became the symbol of boxing and in Sports, he became the leader of this movement, and he defends this cause. Muhammad Ali establishes a close connection with Malcolm X. Malcolm X was the person in charge of the Black Panthers. Ali wanted to make immediate changes. Furthermore, Ali was totally against the Vietnam War in which he was drafted. African-Americans had the most important ratio of death in the Vietnam War as comparison with other Americans ethnicity. The reason of this is that most of the Blacks were placed in the front lines. Ali desired for the African-American soldiers to go home because he called the Vietnam War "a mistake." Most of us Americans now know that the Vietnam War may have been a historical error. Undeniably, Ali's domestic status made him a special leader for the Afro community. He became one of the most powerful voices of this community. His presence enabled has many African-Americans to overcome the problems of society.
The Greatest Muhammad Ali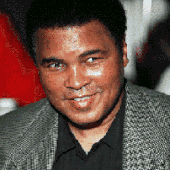 The My Hero Project - Muhammad Ali
Was it his physical prowess, his social commentary, his clever, cocky rhymes? Or was it his post boxing, humanitarian endeavors? Maybe it's all of the above for many who have been inspired ...